3 Jan
By the Center for Biological Diversity
More Than 90 percent of Imperiled Beardtongues Threatened by Oil, Gas Projects
SALT LAKE CITY (Dec 30, 2014)— Seven conservation groups filed a formal notice of intent to sue the U.S. Fish and Wildlife Service today for denying Endangered Species Act protection to two imperiled wildflowers in Utah and Colorado. The Service proposed to protect the White River and Graham's beardtongues in August 2013 after determining that 91 percent of Graham's beardtongue populations and 100 percent of White River beardtongues were threatened by the impacts of oil and gas development. The Service then reversed course in August 2014, withholding protection based on its claim that threats to the species were ameliorated by a last-minute, voluntary "conservation agreement" the Service entered into with the Bureau of Land Management and several state and county agencies with active roles in energy development.
"These beautiful and rare flowers are threatened with extinction, and all the government can muster is a strictly voluntary plan to keep them alive? That won't cut it," said Lori Ann Burd with the Center for Biological Diversity. "The Service can't substitute the powerful protections of the Endangered Species Act with a weak agreement that may or may not protect these wildflowers. The conservation agreement is a giveaway to the oil industry that threatens to erase a beautiful piece of our natural heritage."
Graham's and White River beardtongues live only on oil shale outcroppings in northeastern Utah's Uinta Basin and northwestern Colorado. This badland region is home to dozens of rare plants found nowhere else in the world and supports a complex ecosystem. The two wildflowers have been waiting for Endangered Species Act protection since 1975 and 1983 respectively, and the threats to their continued existence have only increased as developers have flocked to Utah hoping to exploit oil shale and tar sands deposits.
"The Service turned its back on its own science-based listing proposal," said Tony Frates with the Utah Native Plant Society. "In an attempt to placate energy-development interests, the Service substituted a weak, voluntary conservation agreement in place of mandatory Endangered Species Act protections that are necessary to save these rare and imperiled flowers."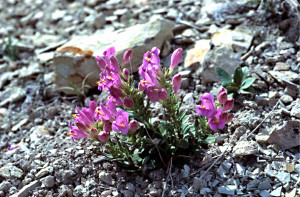 In its 2013 proposal the Fish and Wildlife Service determined that 84,000 acres should be protected as critical habitat "essential to the survival" of the two plants. But the conservation agreement provides for only 49,000 acres of so-called conservation areas, which will be subject only to weak and voluntarily protections. The Service drew the conservation area boundaries to exclude numerous areas planned for fossil fuel development.
"The American people have a right to expect government agencies to follow the law. The Service knows what it needs to do to protect these plants, but politics has trumped science once again," said Earthjustice's Robin Cooley.
"Conservation efforts by states and private energy interests are important, but this agreement falls far short of what the Service has said is needed to protect these beautiful wildflowers."
"This conservation agreement provides for more than 30,000 fewer acres of protected lands than the Service has determined these plants need to survive, and it specifically excludes areas where the plants are most imminently imperiled by oil shale projects," said Megan Mueller with Rocky Mountain Wild. "It's clear that to avoid extinction these beautiful wild flowers need nothing less than the full protection of the Endangered Species Act, which is 99 percent effective at preventing extinction."
The conservation groups filing today's notice of intent include the Center for Biological Diversity, Grand Canyon Trust, Rocky Mountain Wild, Southern Utah Wilderness Alliance, Utah Native Plant Society, Western Resource Advocates, and Western Watersheds Project. They are represented by Earthjustice in Denver, Colorado.