10 Mar
Deep Green Resistance forwards this message from our friends at Wildlands Defense. (As editors at this site are engaged in this resistance, we may not post much until this initial assault threat is resolved. We'll update you as soon as we can.) As always, check out http://wildlandsdefense.org for more information.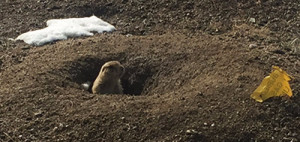 Friends,
Today, Tuesday the 10th, we are on high alert for an on call protest. It has been confirmed that Alberta Development along with Animal and Pest control are going to poison the prairie dogs with Aluminum Phosphide. It will happen sometime before March 15th so they don't have to comply with migratory bird laws and today is certainly a high risk day. It is important to watch your emails and our facebook page for updates should the exterminators arrive on site. If this happens and you receive notification, we are asking you to join us and stand in solidarity against this atrocity. We need your bodies, signs, documentation and support.
We should have our referendum petition ready to go at some point this week and will keep you updated as that progresses. We need all Castle Rock voters to sign this petition giving Citizens a voice in making a decision on the Promenade ordinance. The Town Council has proven they are not capable of representing the voices of the people.
Castle Rock residents:
Please register to vote online
So that you can sign the petition.
It is important that we exert pressure on the retailers that will be a part of the Promenade and let them know that their potential customers want them to demand that Alberta Development postpone construction and insist on the safe relocation of the prairie dogs to a viable land base.
Thank you for all your support, concern and hard work in helping us save the prairie dogs.
For the prairie dogs !
Castle Rock volunteers have been hard at work keeping an eye on the development activities of Alberta Development and the Town of Castle Rock.
Alberta Development has been increasing its operation on the site of the prospective 'Promenade at Castle Rock.' Volunteers have documented increased activities near the rock-crushing area, and subsequent impacts to prairie dogs on the site. This young male is injured as a result of Alberta's murderous behaviors.
Patrol
Volunteers of the Castle Rock Prairie Dog Patrol have been keeping busy around the clock patrolling the 'Promenade at Castle Rock' site to keep an eye on the prairie dogs and document the miraculous diversity of wildlife. If you're a local of Douglas County and would like to volunteer to take a shift, check out the Patrol Calendar and sign up!